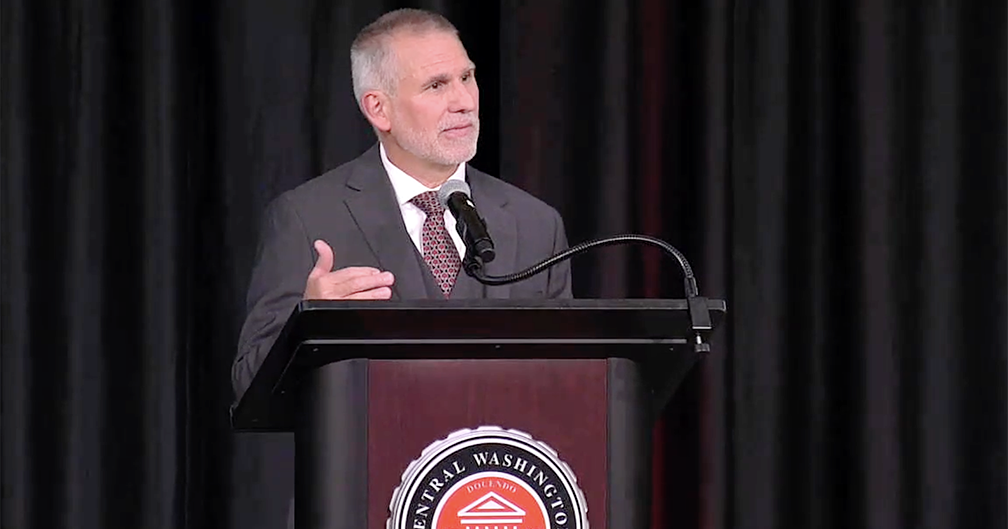 CWU President Delivers State of the University Address | New
ELLENSBURG, Wash. – Central Washington University President Jim Wohlpart delivered his annual state of the university address Nov. 4, reviewing the CWU's goals and strategies. The half-hour address was delivered in the ballroom of the Student Union and Recreation Center and highlighted the future of community relations at the university.
Wohlpart said the school is committed to its vision of being a "model learning community of equity and belonging," focusing on access and opportunity for students of all kinds. Additionally, the school will establish a viable budget and work with community members, local leaders, the state legislature and campus groups to create a sustainable future, according to the address.
"We need to make sure our work becomes relational and not transactional," Wohlpart said. "That is to say, for any transformation of our university to happen, for us to lead and work in an equitable way that nurtures a culture of belonging, we must do so by building bridges and communities where everyone feels seen and heard."
Wohlpart continued to mention reports of upcoming changes in student demographics; more importantly, the CWU has reason to expect a sharp increase in the number of students of color. He thinks it's a chance for the school to reinvent itself as a more diverse and equity-based school.
"This work will challenge us to become a learning organization, to investigate our thought patterns that invisibly guide much of our day-to-day operations – systems and structures that benefit the few, people like me, while excluding, disadvantaging and even diminishing so many others," said President Wohlpart.
The school has been working on a plan called Central Experience, which outlines the school's priorities between 2023 and 2025. This includes expanding bilingual STEM access, increasing employee salaries, addressing the loss of learning due to the pandemic and improving students' financial literacy.