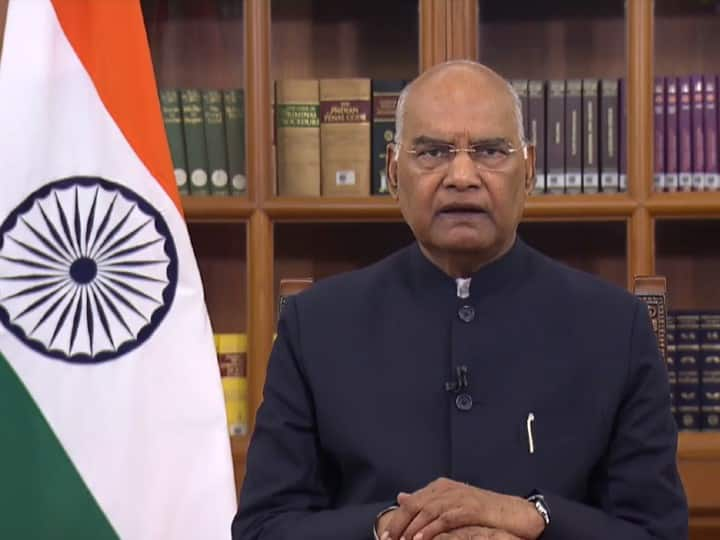 Outgoing President Ram Nath Kovind addresses Nation
New Delhi: Ram Nath Kovind addressed the nation when he was on the 14the President of India ended on Sunday. On the eve of his resignation, outgoing President Kovind expressed his gratitude to all the country's citizens and elected officials. "I express my deep gratitude to all fellow citizens and your elected representatives. I have been inspired and energized by my interactions with citizens during my visits across the country. I have received the full cooperation, support and blessings from all walks of life," he said. said.
Reflecting on his childhood and early life, Kovind said he "salutes the power of our country's vibrant democratic system" because it gave an opportunity to a person "who grew up in a very ordinary family in Paraunkh village of Kanpur Dehat district". He recounted his visit to his home village during the president's tenure and touched the feet of elderly teachers at his school in Kanpur to seek out their "ask the younger generation to stay in touch with their roots".
"During the five years of my tenure, I have performed my duties to the best of my abilities. As the successor to great personalities like Dr. Rajendra Prasad, Dr. S. Radhakrishnan and Dr. APJ Abdul Kalam, I have been very aware of in the performance of my duties," he added.
LIVE: President Kovind addresses the nation on the eve of his resignation https://t.co/RonFNeCIAG

— President of India (@rashtrapatibhvn) July 24, 2022
He emphasized the concept of social democracy rather than political democracy quoting Dr Bhimrao Ambedkar and hailed the trinity of ideals of liberty, equality and fraternity, saying they should not be confused with abstractions because they are "high, noble and uplifting".
In his address, the outgoing President commemorated the struggles of our freedom fighters who helped liberate our country from colonial rule and shape modern India. "From Tilak and Gokhale to Bhagat Singh and Netaji, from Jawaharlal Nehru, Sardar Patel and Shyama Prasad Mukherjee to Sarojini Naidu and Kamaladevi Chattopadhyay – nowhere in the history of mankind have so many great minds come together for a common cause ", did he declare.
"Mother nature is in agony and the climate crisis may endanger the very future of this planet," outgoing President Ram Nath Kovind said in his farewell address to the nation on Sunday as he called on all to protect the environment for future generations.
Stressing that the country is gearing up to make the 21st century "the century of India", Kovind highlighted the importance of health care and education and said these, along with economic reforms, would enable citizens to pursue happiness by discovering their potential.
Notably, Draupadi Murmu was elected on Thursday to be India's next president, after overwhelmingly defeating common opposition presidential candidate Yashwant Sinha. Murmu will be sworn in in the central hall of parliament on Monday.
Meanwhile, outgoing President Ram Nath Kovind's farewell ceremony took place in Parliament on Saturday.
Vice President Venkaiah Naidu, Prime Minister Narendra Modi, Lok Sabha Speaker Om Birla were present at the venue as Rajya Sabha and Lok Sabha MPs jointly hosted Kovind's farewell.
READ HERE: 'MPs should follow Gandhi's philosophy in parliament': Prez Ramnath Kovind leaving during farewell speech
Addressing the event, the outgoing President, quoted by news agency ANI, said: "Five years ago, I was sworn in as President of India here at Central Hall. All MPs have a special place in my heart".
"Parliament is a temple of democracy and MPs should always follow Gandhi's philosophy while exercising their rights of debate and dissent in parliament," Kovind said.
Conveying his greetings to newly elected President Draupadi Murmu, he said, "I warmly congratulate Draupadi Murmu on being elected as the next President. The country will benefit from his advice.