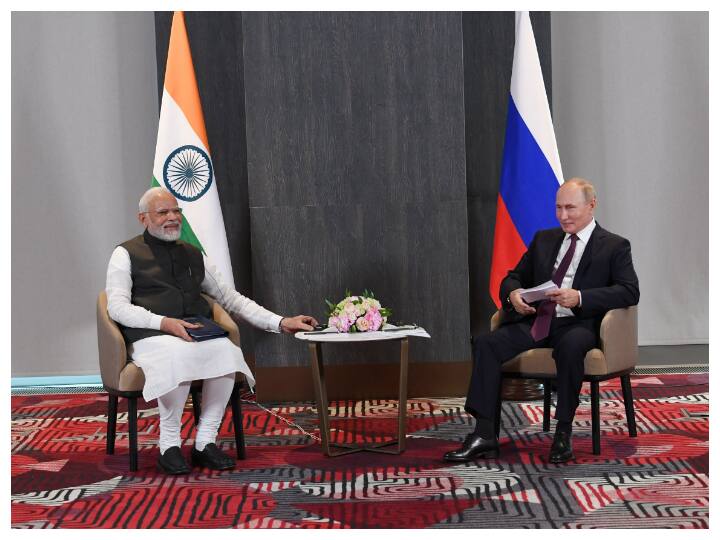 Russian President Putin wishes Prime Minister Modi ahead of his birthday tomorrow
New Delhi: Prime Minister Narendra Modi held bilateral talks with Russian President Vladimir Putin on the sidelines of the Shanghai Cooperation Organization (SCO) summit in Samarkand, Uzbekistan on Friday. As well as discussing strategic ties between the two nations, Prime Minister Modi received well wishes from the Russian President ahead of his birthday on Saturday.
President Putin said that although Russian tradition does not allow greetings in advance, he said he always wished Prime Minister Modi and India the best.
"Tomorrow, my dear friend, you will celebrate your birthday. According to Russian tradition, we never offer congratulations in advance. So I can't do that at the moment. But I would like you to know that we are aware of this and we wish you all the best, we wish the friendly Indian nation all the best and we wish India prosperity under your leadership," Putin said.
#LOOK | My dear friend, tomorrow you are about to celebrate your birthday…, Russian President Vladimir Putin tells Prime Minister Modi ahead of his birthday

(Source: JJ) pic.twitter.com/93JWy2H43S

— ANI (@ANI) September 16, 2022
"Relations between Russia and India are developing and they have the nature of a strategic partnership, and I hope they will continue to develop very quickly. We are actually engaging in international platforms and we are discussing all international issues," he added.
Meanwhile, during their talks, Prime Minister Modi told President Putin that "the era of today is not one of war", referring to the conflict between Ukraine and Russia.
"Today's era is not one of war and I told you about it on the call. Today we will have the opportunity to talk about how we can progress on the path of peace. India and Russia have remained together for many decades," ANI quoted Prime Minister Modi as saying.
In response, Putin said Russia wanted the war to end as soon as possible.
"I know your position on the conflict in Ukraine and also your concerns. We want this all to end as soon as possible. We will keep you updated on what is happening there," the Russian president told the prime minister. Modi.
The two leaders also discussed issues relating to strategic stability, trade, the situation in the Asia-Pacific region and bilateral cooperation within the UN and the G20.