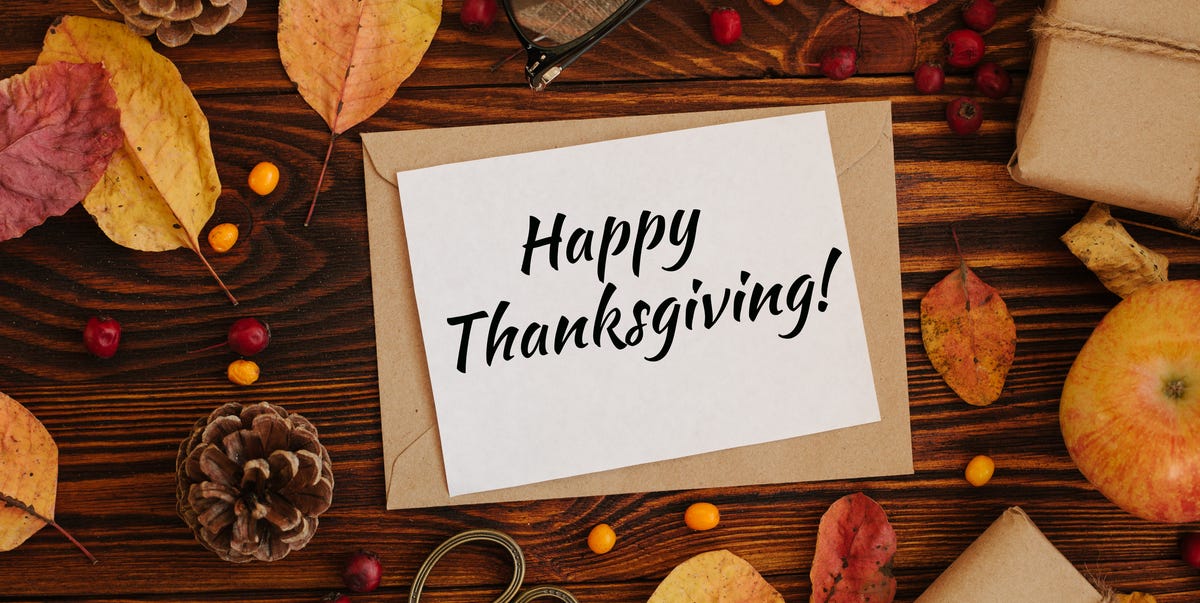 Thanksgiving greetings and wishes to write in a Thanksgiving card
No matter how much preparation you do ahead of time, Thanksgiving is always a busy day. You think of the turkey, the sides, the table settings, the decor, and about a million other things. But you should take a moment for yourself on Thanksgiving Day to think about the people you're grateful for. Whether it's your best friend, members of your religious community, or distant family members, most of us have people in our lives that we are grateful for. And there's no better way to express those good feelings than with Thanksgiving Greetings and Wishes shared with those people in our lives.
These Thanksgiving wishes are perfect for texting or in a thoughtful Thanksgiving card. Of course, you can always share these Thanksgiving messages of gratitude with those gathered around your Thanksgiving table. These holiday wishes are perfect for inspiring you before everyone gathers around the table to say what they're grateful for this year. You can also read some of our favorite Thanksgiving quotes, religious Thanksgiving prayers, and fun puns to give you ideas on what to say on this special holiday.
We have plenty of Thanksgiving greetings to send to your friends, colleagues, businesses, family, and anyone else who deserves your Thanksgiving gratitude.
Thanksgiving greetings and wishes for friends and family
To my amazing, generous, kind friend: Happy Thanksgiving! You deserve all the blessings life has to offer this season.
Happy Thanksgiving!
Here's hoping you and your loved ones have plenty to be thankful for this Thanksgiving.
This Thanksgiving, I'm grateful for our friendship.
I send you all my best wishes for Thanksgiving.
I am thinking of you on this special holiday, because I am so grateful that we are in each other's lives.
May your Thanksgiving be full of family, happiness, and lots of pie.
This Thanksgiving, I hope you can enjoy lots of delicious food AND a good nap afterwards.
Here's hoping this Thanksgiving is full of peace, joy, and lots of mashed potatoes.
It's a time to be grateful for all the blessings in our lives, and I hope you know that I consider you one of them. Happy Thanksgiving!
I wish you a very happy Thanksgiving Day.
Happy Thanksgiving! Thank you for always being there to cheer me up.
This quote from Maya Angelou made me think of you: "Let gratitude be the pillow on which you kneel to say your evening prayer.
From our house to yours, happy Thanksgiving!
I wouldn't trade your friendship for anything in the world. Happy Thanksgiving to my best friend.
Happy Thanksgiving to my favorite person. I hope your family isn't driving you too crazy today!
Thanksgiving wishes for colleagues or companies
Thank you for all you do to make this place of work fun, friendly and successful. Happy Thanksgiving!
I wish you and yours a happy Thanksgiving!
I'm grateful to have a teammate like you who is dependable, kind, and fun.
Enjoy the Thanksgiving break! You deserve some relaxation after all your hard work this quarter/month/etc.
This Thanksgiving I am grateful to be working with/for you. Enjoy the long weekend!
You are an important part of this community, and I'm glad we're working together. Happy Thanksgiving!
We wish all our customers a very happy Thanksgiving!
[For a business that will be closed]: We give time to our employees to celebrate the holiday with their loved ones. We will reopen the [date] at [time]. Happy Thanksgiving to you and yours!
Thanks for being there when I needed help [project/task]. I am so grateful to have a colleague like you.
I am always inspired by your hard work and dedication. Happy Thanksgiving!
This Thanksgiving, I'm grateful to have a colleague who's as funny, kind, and sweet as you are.
Have a wonderful long weekend filled with your favorite people and lots of pumpkin pie!
I am grateful to work for such a caring and caring boss. Happy Thanksgiving!
Thanksgiving wishes to express gratitude
Thanksgiving is about gratitude. So in the spirit of the holidays, I'm so grateful you're a part of my life.
I am incredibly grateful that you are in my life. Happy Thanksgiving!
I hope you know how grateful I am for your presence in my life.
You are the best friend/family member/brother-in-law I could have asked for, and I am so grateful to you.
This Thanksgiving, I hope you know that I don't take your friendship for granted.
I live my life in gratitude, and there's no better day than today to remind you how grateful I am to be part of your community.
There is always something to be thankful for. And this Thanksgiving, I'm so thankful for you.
I am grateful for every moment we spend together.
This has been a tough year for me/us, and I can't thank you enough for being there to support me/us as we got through things.
I am so grateful for the friendship, love and support you have shown me since we met. Happy Thanksgiving!
I appreciate you so much, today and every day.
You made me the person I am today, and I'm so grateful to you. Hope you have a wonderful Thanksgiving.
Short and Sweet Thanksgiving Text Messages
I miss you and yours on Thanksgiving! I'll have an extra portion of mashed potatoes in your honor.
I hope you are having a happy Thanksgiving on your side!
I'm sad that we can't be together to celebrate Thanksgiving, but I hope you know I think of you and appreciate you.
Happy Thanksgiving! 🦃 🍂🥧🧡
I wish I could be at your Thanksgiving table this year! I miss you very much and I hope you are having a great Thanksgiving.
Even though our homes are far apart, you and your family are always close to my heart. I will think how grateful I am that we are family/friends today.
I am so grateful and can't wait to see you in a few weeks for Christmas! I love you very much and happy Thanksgiving!
Although I am sad to miss this year's Thanksgiving, I will definitely be there in spirit.
This text is full of hugs and kisses for everyone! Give them all my love. Happy Thanksgiving!
On this Thanksgiving, I am so grateful to you and your family.
Hoping the triangle clicks in your favor for Thanksgiving!
I am so grateful to have such a smart, kind and welcoming family member like you. I miss you very much this Thanksgiving and I look forward to seeing you soon.
Jamie Ballard (her) is a freelance writer and editor covering news, lifestyle and entertainment topics including sex and relationships, TV, movies, books, health, pets , food and drink, pop culture, shopping and personal finance. . She regularly contributes to Cosmopolitan, women's day, Good Housekeeping, and YouGov, among other publications. When she's not working, you can find her running, traveling, or scrolling through TikTok. Follow her on Twitter.
This content is imported from OpenWeb. You may be able to find the same content in another format, or you may be able to find more information, on their website.