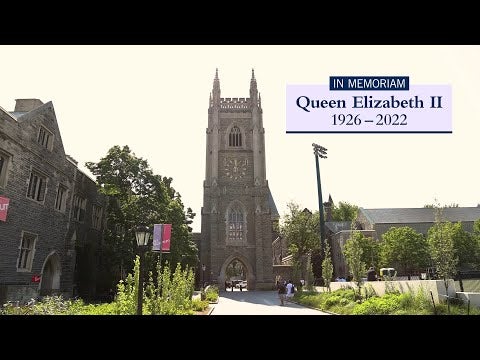 The Soldiers' Tower carillon played in remembrance of Queen Elizabeth II
On Friday noon, the carillon bells at the University of Toronto's St. George Campus rang in solemn remembrance of Her Majesty Queen Elizabeth II.
First, Roy LeeU of T carillonist, and its former students and certified carillonists Elisa Tersigni and Naoko Tsujitaall alumni of Tal University, rang the four-tonne bell – the largest bell of the 51-bell carillon housed in the Soldiers' Tower – 96 times to signify the Queen's age when she died in Balmoral Castle in Scotland a day earlier.
After the tolling of the bumblebee, Lee, a University of Toronto carillonist for 20 years, played the Royal Anthem and O Canada as about 100 people gathered outside the soldiers' tower to listen.
The hymns were arranged for carillon by Gordon Slaterformer bell ringer for the Dominion of Canada.
Lee said the fact that the chime is in the Soldiers' Tower — which commemorates members of the U of T community who served in the World Wars — added a special touch to the tribute.
"As a teenager during World War II, Elizabeth was an active member of the same Allied forces which included U of T alumni, students, faculty, librarians and staff – some of whose names are listed in the walls at the base of the tower," said Lee. "Their sacrifice and service to others is an example for all of us: the torch is now ours to carry high."
The performance also had special meaning for Lee personally.
"As someone who immigrated to Canada from Hong Kong as a young child, Queen Elizabeth II was, for my family, a visible symbol of the shared ties to the Commonwealth that made the transition a little easier. »