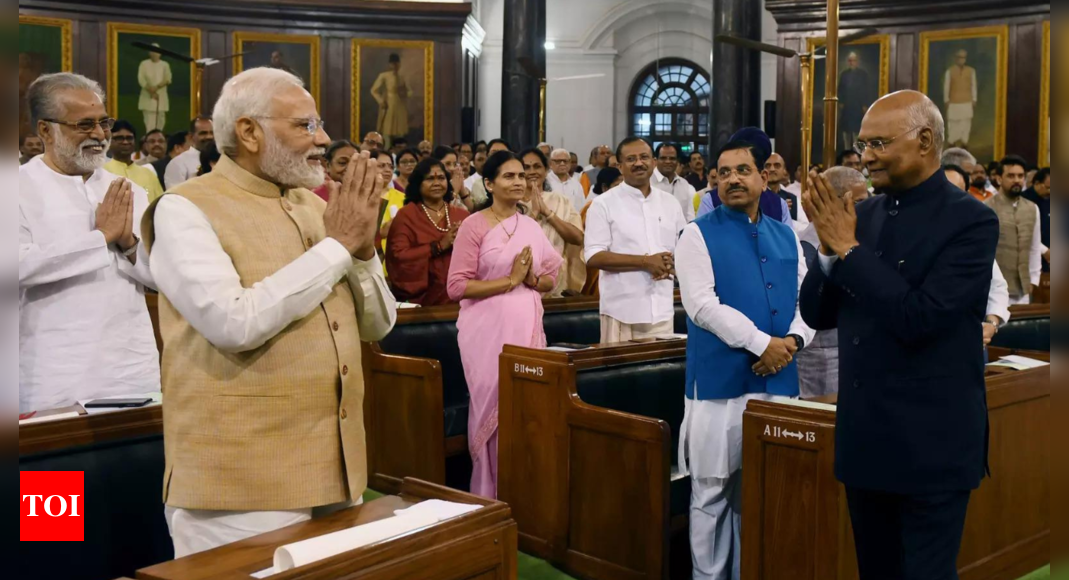 Twitter flags cropped video of PM 'ignoring' President Kovind's greetings | India News
NEW DELHI: Twitter on Sunday flagged an edited video tweeted by Aam Admi party MP for Rajya Sabha (AAP) Sanjay Singh and some Congress leaders, which has been shared several times, in which Prime Minister Narendra Modi is seen staring at the cameras as the incumbent President Ram Nath Kovind greet him after he leaves Parliament Accommodation.
"Stay informed. Media presented out of context," Twitter captioned the tweet along with the cropped video.
Singh had posted a video insinuating that Prime Minister Modi had offended the incumbent president by apparently looking past him and into the camera as Kovind passes with joined hands after the departure of Parliament. "Such an insult. Very sorry sir. These people are like that. Your term is over, now they won't even look at you," the AAP chief wrote in Hindi.
Rohan Gupta, the congressional spokesman, also shared the cropped video with a caption, "Do not disturb." Twitter called it out too.
The BJP tweeted the original video in which the prime minister can be seen returning the president's greetings. "Fake news peddler Sanjay Singh is doing it again. Those whose lies (from Kejriwal to Sisodia) are caught every day, and who are used to being humiliated, what do they know about respect for others? Amit Malviya, head of the BJP's IT department, tweeted.
Previously, the BJP attacked Sanjay Singh for falsely claiming that the government had changed the rules for recruiting the armed forces by introducing caste among the criteria for recruiting Agniveers.
Although caste has never been among the criteria for recruitment into the armed forces, petitioners, as noted in an affidavit filed in the Supreme Court in 2013 under the UPA, are questioned about their caste for administrative purposes. .